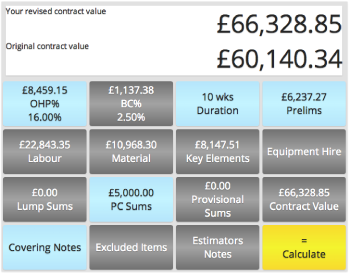 Builders
Are you pricing jobs at unsociable hours? Need more time on-site? Need more time to manage your business?
We can improve your estimating process into an affordable online system, accessible from any web browser.
Online, you can set labour rates, plant and tool hire rates, you can even manage material prices and download completed estimates, in EXCEL, WORD or PDF.
Your information is accessible on PC, on mobile and on-site. Interactive and manageable 24/7.
You'll never have to write up a quote for a job you've lost. Our industry-leading online editor allows you to customise your estimate, which you can download in pdf format and submit to your client by email. If your client doesn't respond positively you won't have to convert the estimate into a quote, saving you countless hours writing up quotations.
How to use the service
Receive the same service as our 48,000 trade-users. A detailed labour and materials estimate, based on your drawings, for any domestic extension, conversion, refurbishment or new-build dwelling.
To use the service, please provide;
Existing and proposed floor plans
Existing and proposed elevation drawings
Any other project information
We accept drawings as Adobe pdf files. All drawings should be to a recognised metric scale: for example, 1:50 or 1:100.
Note: Adobe pdf files must be created in the size intended for printing.